Supreme being


Re: Maetricks Conclusion...part 1
I debated making the pages smaller, and honestly...if it weren't for the "3 image per day" rule I'd be more inclined to do so...however, I might just forward the individual pages to the comics section here...Of course that means I'd also have to a cover page.
Moderator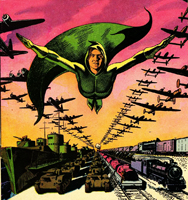 Re: Maetricks Conclusion...part 1
I love seeing you work in the comic book format! I think you're smashing it! I'm less keen on the long strip proportion. It requires such a great reduction in image quality and size that I have to set my browser to 175% just to actually read it. I think you're doing great work here but making the experience less enjoyable by not breaking into separate pages.