[< Previous 14 15 16 17 18 19 20 Next >]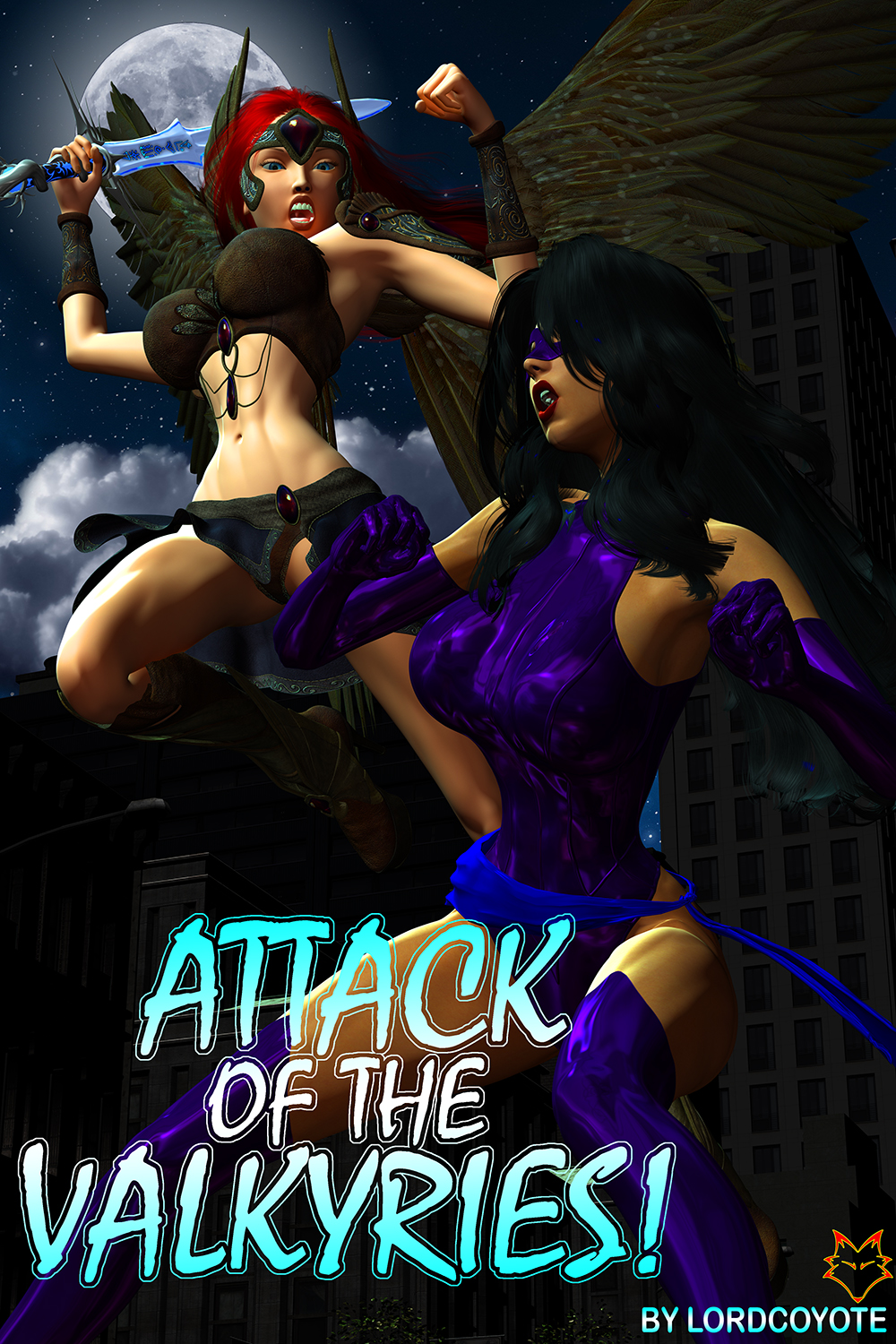 ATTACK OF THE VALKYRIES!

lordcoyote


2017/12/10 7:04


78

1


A superheroine in peril novella 6600 words aproximate
It began as just a typical night for the lovely heroine Ravyne. She's about to break up a heist when she's interrupted by the arrival of four legendary Valkyries who inform her that they've considered her for recruitment!

Her! A shield maiden of the gods!

At first Ravyne is flattered.

That is until she learns the job requirement….

Available at https://www.amazon.com/dp/B0782CD2TY/ref=pd_rhf_gw_p_img_1?_encoding=UTF8&psc=1&refRID=J8VAEA9QZTWA9TTKXXM7 for $1.99

excerpt:

The pale light of the full moon shone down as Ravyne stepped up and peered over the edge of the warehouse roof. Crouching down she sighted several men in dark suits milling around, some of whom were brandishing automatic weapons. Ravyne's baby-blue eyes narrowed when she spotted Vito Santino, lead enforcer of the Mastriano syndicate barking orders as a number of men carried cases out of the warehouse belonging to Morgan enterprises and loaded them onto a van.
Pursing her full, glossy lips Ravyne shook her black-maned head. Now just what would mafia goons want from a company that made beauty and hygiene products? She chuckled, perhaps their boss, Olivia Mastriano, the self-proclaimed 'queen of all the mafia' simply didn't want to pay up market prices for her mascara. And, honestly, since she'd used the products herself and knew how much they cost the heroine could almost sympathize with the crime lord. Almost.
Well, if that were the case she'll just have to settle for paying full price like she did. Standing straight Ravyne readied herself but took a moment to adjust the bottoms of her halter-topped leotard, which had an annoying habit of riding up in back, much to her chagrin. Then she took a step off the roof. The sound of her steel-reinforced heels clacking loudly on the pavement startled the goons, causing them to freeze in place and gawk at the heroine.
Vito was the first to recover from his surprise. "Oh, great, we got super bitch!" he growled.
Ravyne's mouth curled derisively. Boy, did she really hate being called a 'super bitch'! "Stop calling me that!" she demanded.
"Make me! Can't you just mind your own damn business and leave us working stiffs alone!" the big goon challenged before turning to his men. "We can't afford to let her stop us from delivering this eye liner to th' boss! F**k this c*n*!"
Obeying their leader four mooks rushed forward and opened fire with their submachine guns at Ravyne. "Ow! Ow! That stings! Stop! OW!" she shouted as the bullets pelted her nigh invulnerable skin. Then with an angry growl she stalked over to where a man hole was set in the pavement and, with a precision stomp made the cover flip up where she caught it. "When will you idiots ever learn your bullets can't ever harm me!" then she flung the cover at the goons. They frantically dodged to avoid the large, metal slab which flew past and imbedded itself in the side of an SUV.
"Hey, bitch!" shouted a livid Vito. "I just had that thing detailed! For that you're gonna pay!" the big man then motioned to the rest of his crew to join in and they all stalked towards the heroine.
Ravyne merely smirked at the advancing men and took a fighting stance. Even in a group did they honestly think they stood a chance against her, a heroine who could toss a tank? Seriously, brains were definitely not a job requirement for criminals. "You guys really are as stupid as you look."
Vito snarled his defiance. "We'll see who's stupid you—. He suddenly halted. And now he stood there with his jaw working up and down, and on his face was now a look of shock, incredulity, fear. Just what was he playing at now? Then, with a shaky
hand he pointed past Ravyne's shoulder.
"Oh, come on, Vito," Ravyne proclaimed cynically. "There's something behind me? Do you honestly expect me to fall for that tired old—." but then Vito simply yelled out in terror then turned and ran with his equally freaked out crew abandoning their loot and falling close behind leaving Ravyne standing there with a wry look on her face. "There…. really is something behind me, isn't there?"

[< Previous 14 15 16 17 18 19 20 Next >]
The comments are owned by the poster. We aren't responsible for their content.
Poster
Thread
Dragondack

Posted:

2017/12/13 18:30

Updated:

2017/12/13 18:30

The Great Eternal Dragon

From:

Edmonton,Alberta,Canada

Re: ATTACK OF THE VALKYRIES!