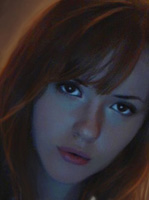 Ariel B (ReddEra)
Heromorph Artist Spotlight feature is back and for our first one,
the talented
Ariel B.,
AKA

Reddera
pijon:
You've been busy making quite a name for yourself in the recent times with commissions, your own website, deviantArt Gallery, and work for Tae'vern Tees (www.taverentees.com). Congrats on doing officially licensed illustration work for Robert Jordan's Wheel of Time! Beautiful stuff you're doing there! Why don't you tell us what other great stuff you've been up to?
Ariel B (ReddEra):
I want to add to the list of credits you've got that I did two book covers (
"Damselle in Distress" by Kiley Kellermeyer
and
"Wandering Stars : Book one of the Elfwatcher series" by J. H. Moore
, was published with Tor books (WoT Companion) and worked on a fantasy TV pilot called
Dorkcore (http://dawnrunner.com/dorkcore/)
I also got to do Commercial Storyboarding for
Dawnrunner Productions
. Those are my big credits right now.
pijon:
I guess those are big credits! Congrats again! So how did you get started in the art scene anyway?
To see Ariel B (ReddEra)'s Artist Spotlight be sure to
Click Here