Moderator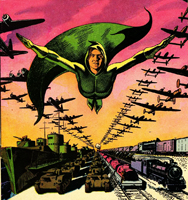 Re: Hellboy
Cool! I'm a huge Hellboy fan so this is a fun one for me!
I love the colors, background, style and exaggerated anatomy here. Great job!
To me, the face looks less like Hellboy though. Mignola (and those who followed) always drew him with a small nose to draw attention to his prominent chin. Your Hellboy has a prominent nose too. It changes the look. It makes his face look more like a traditional devil (though it is quite interesting too).