[< Previous 26 27 28 29 30 31 32 Next >]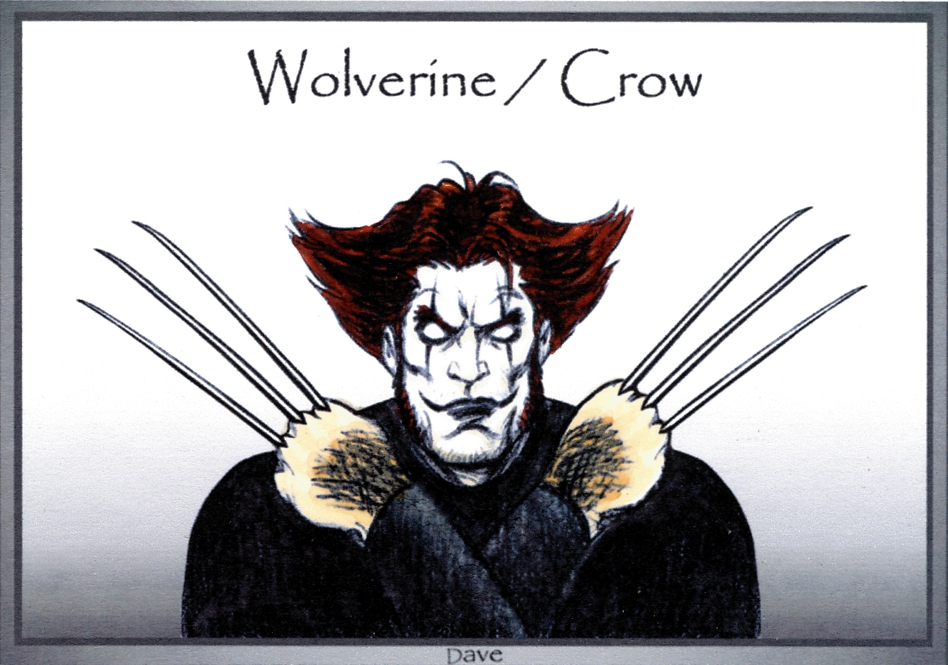 2008 - GM Amalgam Draw-Off: WolverCrow


TemporalDave


2016/3/24 2:21


529

2


Here's more flashb'action for y'all...
Graphic Mouse Amalgam D/O circa 2008! I was prescient enough to save my brief outlines at the time, so here's the setup for...

THE WOLVERCROW
The amalgamation of Wolverine, and the Crow. Logan Drayven - The WolverCrow.
Once upon a time, Logan the mutant 'Wolverine' married his true love - I think her name was Shelley. Then, because the couple stood up to their maniacal landlord - 'Top Magneto', Logan and Shelley are murdered by the landlord's gang of superhuman wannabe-pirate gangsters. However, the mystic force of The Crow guides the self-resurrected mutant on his path of vengeance against his own murderers to finally earn his reunion with his beloved Shelley. Unfortunately Logan never dies, because The Crow was never responsible for his return from the grave, and so The WolverCrow is forced to join the XMen... Just because.
[< Previous 26 27 28 29 30 31 32 Next >]
The comments are owned by the poster. We aren't responsible for their content.
Poster
Thread
Dragondack

Posted:

2016/3/29 2:05

Updated:

2016/3/29 2:05

The Great Eternal Dragon

From:

Edmonton,Alberta,Canada

Re: 2008 - GM Amalgam Draw-Off: WolverCrow

pijon

Posted:

2016/3/28 22:06

Updated:

2016/3/28 22:06

Moderator

Re: 2008 - GM Amalgam Draw-Off: WolverCrow

"This time, the bird will be doing the carving!"
This one works quite well! Good stuff, bud!