[< Previous 72 73 74 75 76 77 78 Next >]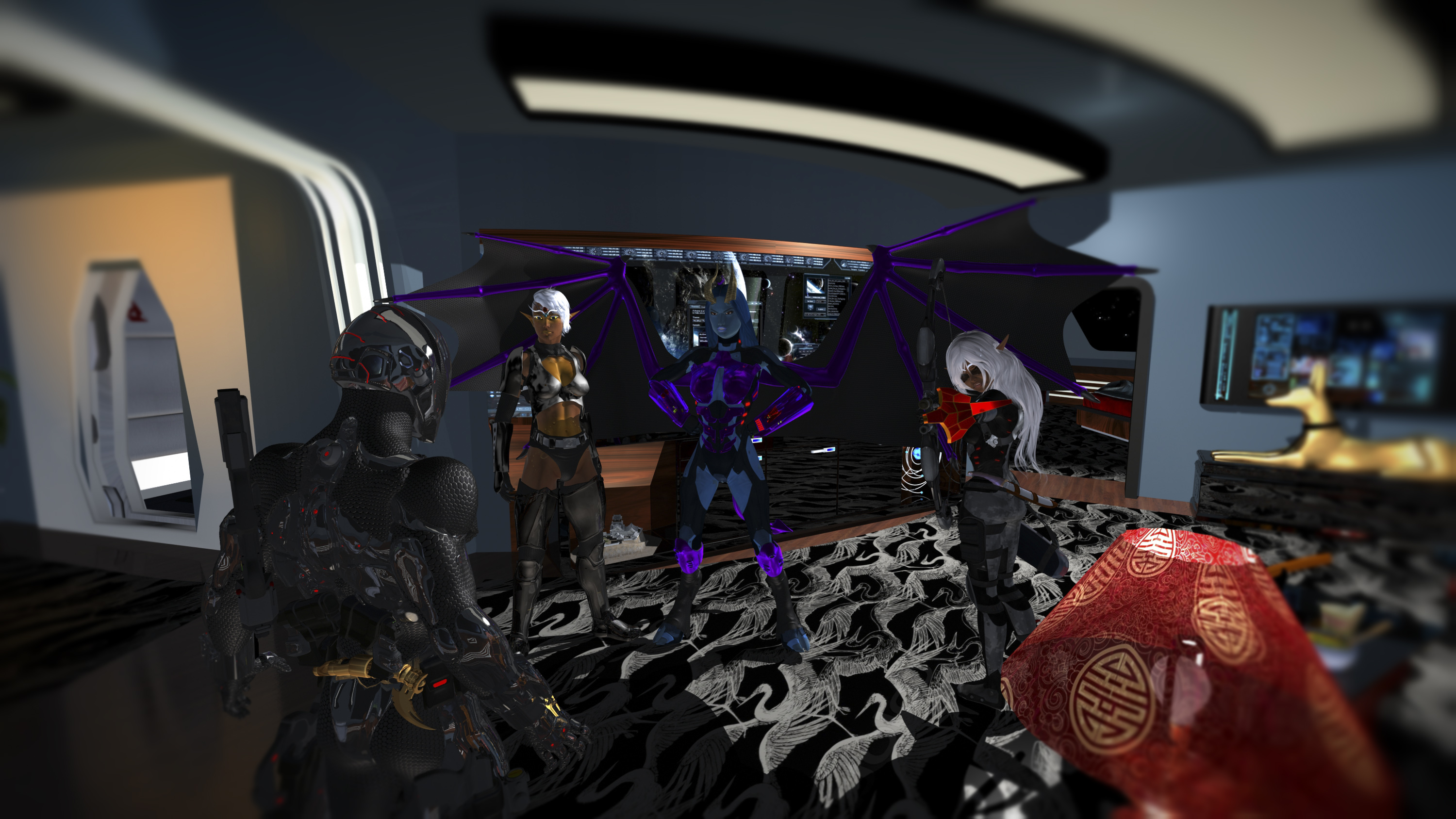 The real deal


Obsidian


2017/4/11 9:13


271

2


Back aboard my ship I retire to my room to find my two wives accompanied by my mistress/demon whose skin has mysteriously turned back to it's original blue color. None of them look happy to see me and the youngest of my wives is pointing what my scanners tell me is an infinitium tipped poisoned arrow dead at the center of my chest. There aren't many things that are a threat to me but infinitium blades are at the top of the list and the arrow most certainly qualifies. I freeze in my tracks.

"I-Is there a problem ladies?"

I try to keep my voice clam and soothing so as not to provoke them.

"Yes darling!" Aini says through gritted teeth.

"We want to know what you've done with our husband."

"Before we kill you where you stand."

The three of them are serious. My computer says they're not lying and they're not impersonators. Something is dreadfully wrong.

"Girls it's me, it really is."

"There's just one problem with that impostor."

Aini again leading the charge is the one who seems the most sure.

"What's that?"

"You and I aren't bond mates Lover!"

"What do you mean?"

"I am bonded to Obsidian Mask , a bond that spans the reaches of reality. I can sense his presence I am tuned to his essence. It gives me purpose and and changes me emotionally, spiritually, and physically. Do I look changed to you?"

"Um no, you look almost the way you did when I bought you from that slave trader."

"Your knowledge of my mate's history notwithstanding, I am reverting back to my original form and there can only be one reason for that change."

"And that is?.."

"You are not Obsidian Mask. If I am separated from my bond mate for too long, a month or more, I begin to revert back to my prime form. My last form was chosen by his desires, and his dreams and unconscious longings. You don't have those or my form would remain, unless you suddenly developed a taste for demonic beings. Even if that were so my form would not revert but become that which you desire most...if you were my mate, which you are not."

"O-okay. for the sake of argument, let's say you're right. How do we proceed then?"

"We start" Ai sneers, "By you removing my husband's armor. Then we'll see some friends and get down to the truth one way or another. Rest assured my sister will kill you if you resist and my husband has taught us all we need to know-"

"To disable and if necessary kill me. I remember. Fine. I'll remove the armor but you're going to discover that I'm me."

I remove the armor and head to the infirmary, now at gunpoint, I submit to all the bloody tests the doctor requires. For the sake of argument we have Aini go through some tests as well just to be safe.

When the doctor comes back I I reach out for Aini's hand and the look I get chills me to the bone so I withdraw my hand. Whatever it is though we'll get through it together.

"Doctor" Ai addresses him and acts like I'm not even in the room. "What is your conclusion?"

"First, there was some discrepancies in Aini's blood work-"

"See, ladies I told you, I'm me."

I start to hop up off the medbed and a security officer puts a death grip on my shoulder.

"As I was saying..." the doctor continues "There were some discrepancies in Aini's bloodwork but that's because she's pregnant. Congratulations by the way."

The girls seem somewhat excited and then turn to me, byut just as they're about to apologize and celebrate.

"You however," the doctor pauses as he gestures to more security officers to join us. You are NOT Obsidian Mask."

"What!!??" I shout in disbelief

"Our tests show that you sir are a very elaborate yet magically constructed clone. You most likely possess nearly all of the orginal Obsidian's memories but you aren't him."

"Look doc if it's the eyes, they repaired them."

"No they did not. Your eyes were never operated on, in fact you bear nos cars of any kind nor any implants of any kind. There is an aura of magic that helps to sustain you, and all of your cells are essentially perfect."

"Doc seriousl, I'm me, just ask me anything?"

"Very well, what do you remember from your days as a human?"

"I can remember almost all of it, like when I got here and the day I-"

Almost instantly I realize what the doctor just did. I had myself transformed a long time ago, I couldn't remember my time as a human because the magic that transformed me prevented me from even acknowledging I was ever human. I'm NOT me, but then who am I? I don't even have time to complete my next thought before Aini has her clawed hand on my throat. With speed that rival a superhero she chok-slams me onto the floor repeatedly until she I'm certain she's going to tear my head from my body. All the while screaming

"Where is he! What have you done with him? Give him back give him back give him back.

Again and again I hit the solid deck plate beneath me, until everything goes black. I awake later still in the infirmary, I step off the medbed and move towards the door, two guards are posted there and they have but one order. I call for the doctor and when he arrives I ask.

"Doc are you certain? There is another simple way to find out."

"What is it doc"

"Simple, order that clone guard to shoot me."

"What?"
"The guards are, like you, magically compelled to obey Obsidian Mask. If that's you then I'll be the one needing a doctor."

"Your funeral doc. Guard, shoot the doctor."

The guard turns to me and....punches me dead in the face. Well, either my crew has been replaced or I have...I don't feel like an impostor. My nose is bleeding so I ask the doc for some tissue, he hands me some ice instead and recites an incantation I recognize. It's the same one used to repair magically...created...clones. As the bleeding stops and the pain recedes I realize it must be true. But I thought only the black Mantis and his pantheon had this kind of magic. Abominous has it too? This is bad, really really bad.

"Doc, just one thing alright?"

"What is it...um...what shall I call you...Ah...Shade?"

"Ha ha doc. Very funny."

"You were saying?"

"Just have the crew do me one more favor, consider it a final order. Have them...find me...and kill the sonofabitch responsible for..." I gesture to myself..."This."

"I'm certain they weren't waiting for your order, but I'll tell the first officer."






[< Previous 72 73 74 75 76 77 78 Next >]
The comments are owned by the poster. We aren't responsible for their content.
Poster
Thread
Lady Heromorph

Posted:

2017/4/16 7:35

Updated:

2017/4/16 7:35

Official Award

Re: The real deal

Congratulations! You've made top images for the Second Week of April, 2017

pijon

Posted:

2017/4/13 5:02

Updated:

2017/4/13 5:02

Moderator

Re: The real deal

Wow, you're really pulling out all stops when it comes to unexpected turn of events. Way cool!