[< Previous 43 44 45 46 47 48 49 Next >]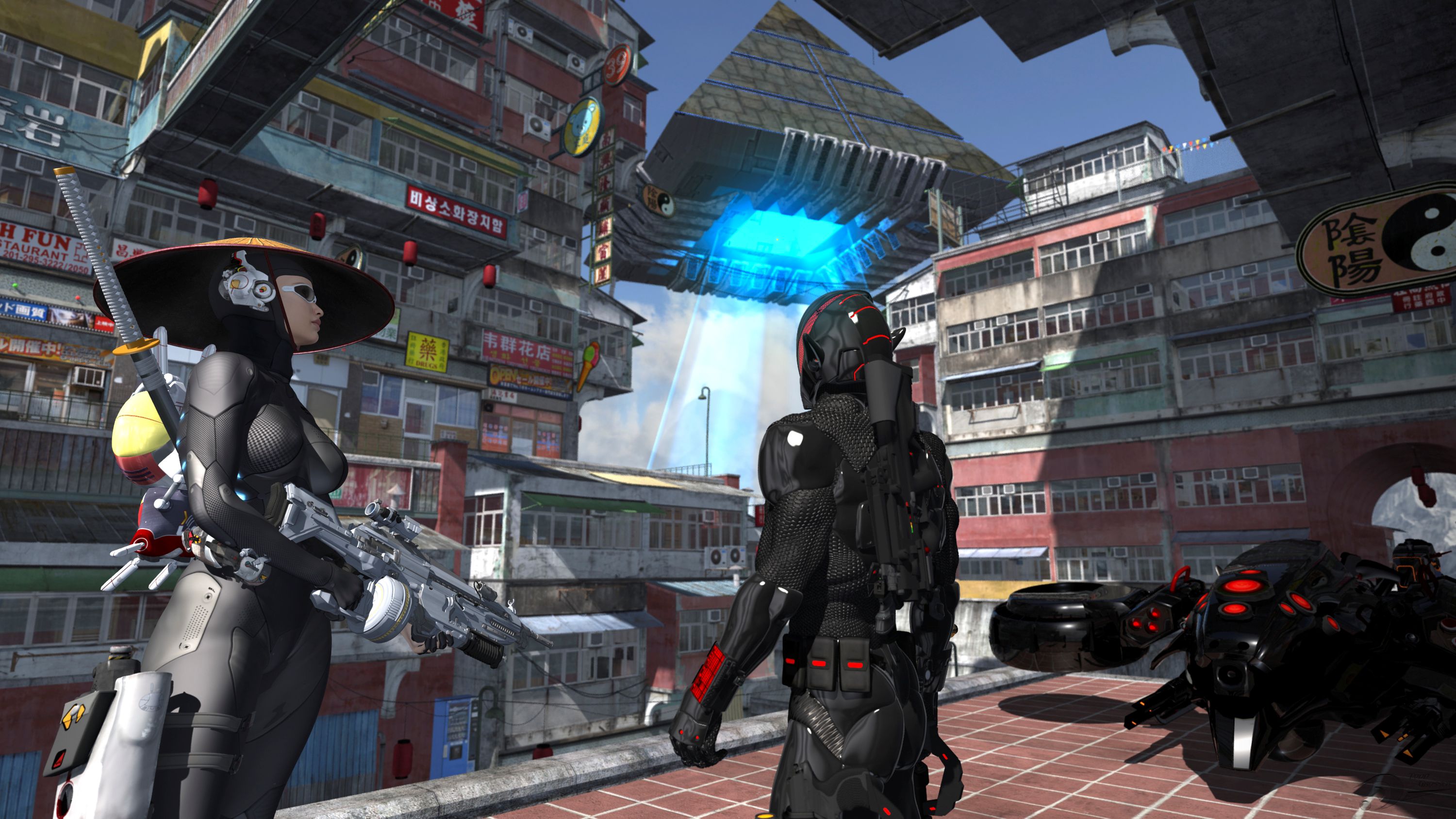 Gods' help us


Obsidian


2017/6/18 21:01


213

3


I have returned to Namae where I hope to find some clue as to what happened to Ichio and I am greeted by the local authorities. They explain that because of my diplomatic ties I must be escorted while on the planet and that my ship must remain docked. I do manage to get clearance for my hovercycle while here so it's not a total wash. They assign me a cyborg (yeah like it could keep up) and I am told she's one of the most powerful on the planet. Knowing the Namae...that's saying something. I begin by searching Ichio's home in the high rise district, and area so densely populated that the residential area is all high rise buildings. Ichio's apartment is on the 29th floor of one of these high rises which makes for one helluvah climb as the elevator quite naturally, is out. Combing through his apartment I find a receipt for his charter flight and the name and logo of the agency who booked it. I also pick up residual traces of nanotech on the card itself. in the letters, and it doesn't take long for my suit's scanners to apeshit.

"WARNING Nano-intrusion detected! Activating countermeasures." a low powerwed EMP stops the little buggers in their tracks and the sub-nanite scrubbers collect the little bots and contain them for the time being. I say nothing to the cyborg police woman who seems oblivious to the event. As I leave she puts her hand on my shoulder and asks:

"You were planning to share that evidence yes?"

No flies on this one here.

"Of course, I'll get you a sample when we return to the station."

She is far more perceptive than she lets on. Something I'll have to be mindful of in the future. I have tried repeatedly to scan her systems but her masking tech is some of the best I have ever seen and my sensors can break it.

"Where to now Mister...Mask is it?"

"Obsidian, just call me Obsidian or Kokuyōgan in your tongue."

"Ah so you speak our languages then?"

"A couple of them yes. I spent some time here a few decades actually."

"Were you here for the Nacron invasion?"

"No just after during the cleanup."

"That was a terrible tragedy, for the whole planet."

"It seemed so to me."

"May I ask, are you expecting this to be the same or similar?"

"I hope not but my sources say there's no system safe from these Maetriks are apparently cyborgs like yourself except that they're out to end all life that they cannot control and add to their collective or hive or whatever they call themselves."

"My understanding is that they can usurp electronic devices and basically anything with a computer."

"If you're wondering if you'd be at risk the answer is yes. Ichio was killed by these machines and gods only know what happened to him. He wasn't a cyborg in fact he was just a man and they used him to lure me out. Now It's my mission to make sure that's a decision they live to regret."

"It sounds like you cared deeply for your friend."


"He saved my life many times, and he was a good man. You mortals are a rare bunch and we elves don't like to get to close to too many of you. You are bright sparks in the universe, with a light more brilliant than the stars themselves then you're gone in an instant. Once in a while a mortal comes along and changes our lives forever, the way we think, act, or feel...I think that's a mortal's true purpose...to change the way the immortal races view the universe. Ichio did such a thing for me."

"I can see why you would want justice for him then."

"Justice? No my friend this has nothing to do with justice. Justice is for beings capable of regret. The machines have no understanding of the concept."

"So you are seeking vengance?"

"Absolu- what the?"

Looking out of the apartment window my eyes cannot believe what they're seeing. Beings who have not made their presence known in eons are hovering high above the city. A giant pyramid shaped starship hovers ominously overhead and the cyborg and I high tail it to the street below.

"What is that thing, I'm not familiar with the type of ship."

The cyborg's words are lost on me as I frantically scan the ship to find the damned emblems that identify the GOD it belongs to. Egyptian gods aren't like other gods, they do not exist in some distant dimension like say the Olympians, or the Asgardians, no they exist here in the mortal realm, with their full divine strength. I say a silent prayer to whatever gods may be listening and hope there is some kind of divine intervention coming. It's one thing to challenge an avatar, but quite another to challenge a god in person. Finally my scanners locate the symbol...Osiris god of the afterlife. At least it isn't Seth or Anubis.

The ship is quickly surrounded by Namaean forces but according to my scans they're just asking to be destroyed. The egyptian gods tech is among the best the entire known universe has to offer. Their most formidable weapon...an antimatter cannon. How that even works I have no clue.

"We need to help evacuate these people Obsidian, if that thing wants a fight these people are right int the mid-"

"If that thing wants a fight we're all dead. I need to speak to them...now. I need access to my ship."

"Why YOUR ship?"

"Because my ship has the power to drive these guys out of here if they get nasty and your don't."

"I see, in that case..." She pauses for a minute her eyes roll nearly to the back of her head and I can tell she's accessing a mainframe (robot tells)."Access granted you now have clearance to be in our airspace."

In an instant we're aboard the Lillun-2 and I hail the giant pyramid, a ship which vastly dwarfs my own. The ship's insignia identify it as the Nyuserre.


"Attention, Nyuserre this is Obsidian Mask, please state your purpose and intent."

After a moment...we receive a reply. Text only. Tne message reads: "Move over."


I step to one side and instantly there stands before me a massive green skinned man, with a pharaoh's beard, partially mummy-wrapped at the legs, wearing a distinctive crown with two large ostrich feathers at either side. In his hands is a large book with only two visible pages. He looks down at me and says.

"You are Obsidian mask? Answer truthfully and know that the eye of Osiris compels you."

I can feel the power of the god's eye but I was gonna answer anyway.

"I am. What do you want of me Oh god of the afterlife?"

Gods love all the formal crap, makes me sick to my stomach actually.

"I have come to gift you, who seeks the destruction of the Maetriks. A gidt of great power so that you might find and destroy this enemy of all."

Egyptian gods value and use technology as much as anyone in this universe and as such they would probably be susceptible to the Maetriks should they choose to attack them, and they most likely would.

"Thank you lord Osiris, I humbly accept your most generous offer (don't laugh it's not easy for me to talk like this.). What mighty gift have you seen fit to grace this humble servant with?"

"I give you the book of Thoth, that you make undertstand the animals of the universe and the other is to understand the minds of the gods."


"A truly generous gift great Osiris, and I am honored to recieve it from your in person. You do my house great honor indeed."

Having a god grant you an audience is pretty awesome, having one pay you a personal visit is unheard of...unless you know the gods I know.

"The honor Obsidian is mine, I have learned of your great deeds from the God Karr and his pantheon, the universe is many times in your debt. I ma saddened that we must ask you once again to place yourself in danger for those who will never know the good you do. Upon your successful return my peers and I would like to show our gratitude for all you have done."

I bow, genuinely. "Thank you. It's an honor to hear you speak those words, and I mean that. I rarely receive thanks for my deeds and I would never presume to ask for any, but it warms my heart to hear it nonetheless."

With that, the mighty god of the afterlife places the tome in my hand and returns to his vessel. For once I'm a bit speechless. The mighty Pyramid ship departs with haste and I am left there feeling for the first time that what I do and the sacrifices I make are noticed by someone at least and appreciated by at least a few.
I bid the cyborg farewell and set course for Kryllia 4 the home base for the Travel agency that Icio used to book his ship. Time to get some answers.
[< Previous 43 44 45 46 47 48 49 Next >]
The comments are owned by the poster. We aren't responsible for their content.
Poster
Thread
Dragondack

Posted:

2017/7/3 2:01

Updated:

2017/7/3 2:01

The Great Eternal Dragon

From:

Edmonton,Alberta,Canada

Re: Gods' help us

pijon

Posted:

2017/6/22 16:34

Updated:

2017/6/22 16:34

Moderator

Re: Gods' help us

Wow! Great image and a really good chapter too!

Lady Heromorph

Posted:

2017/6/22 8:37

Updated:

2017/6/22 8:37

Official Award

Re: Gods' help us

Congratulations! You've made top images for the Third Week of June, 2017