[< Previous 37 38 39 40 41 42 43 Next >]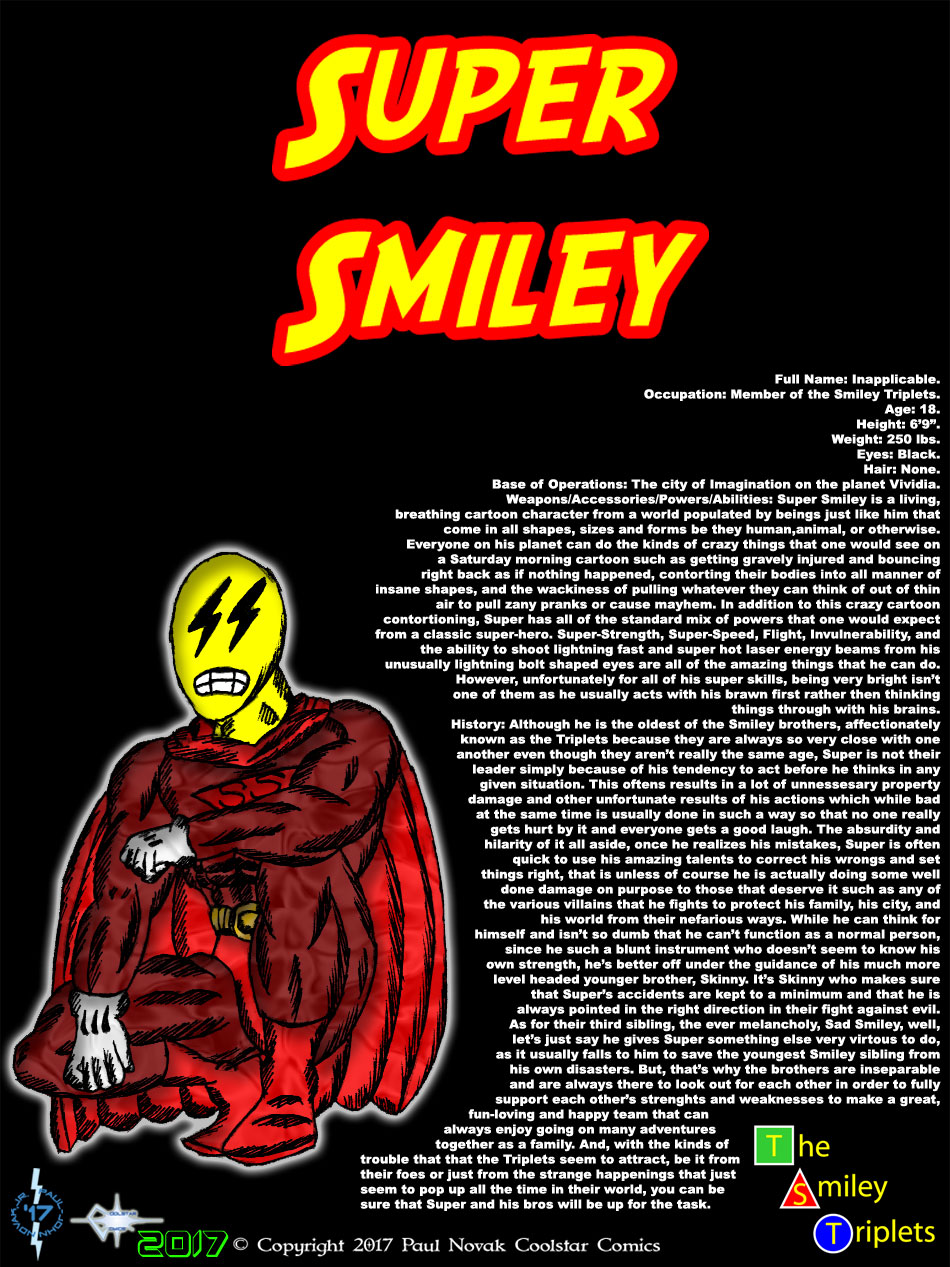 Super Smiley

darth_paul


2017/10/3 16:31


96

3


Super Smiley is the oldest brother of the Smiley Triplets trio, but he doesn't get to lead them. That job goes to his much more level-headed younger sibling, Skinny. Super is great and all for his true heroism and all of his amazing super-powers, but he tends to take action first and think later, which is his greatest weakness, and that's just not very good for guiding others. So, he gladly lets Skinny do all of the thinking for him and their younger brother, Sad, who is too young and melancholy anyway, and just does his part to defend them with his abilities.

Super Smiley was created mainly to of course be a classic ridiculous Superman parody, nothing new really, but I have put my own original spin on the idea nonetheless. His face is also supposed to be something of a stylized "angry face" with his gritted teeth and the lightning bolt eyes meant to represent that he's always ready for action and don't cross him, or he will zap you with his "eye beams." He does exhibit other emotions, of course, but when in action this is his default look.
[< Previous 37 38 39 40 41 42 43 Next >]
The comments are owned by the poster. We aren't responsible for their content.
Poster
Thread
darth_paul

Posted:

2017/10/10 14:52

Updated:

2017/10/10 14:52

Criminal Mastermind

Re: Super Smiley

Glad to see you like.

pijon

Posted:

2017/10/5 1:43

Updated:

2017/10/5 1:43

Moderator

Re: Super Smiley

Hmmm, quite a zany bunch, these Smileys are! A fun and interesting twist on the superhero. Nice!

Dragondack

Posted:

2017/10/3 23:22

Updated:

2017/10/3 23:22

The Great Eternal Dragon

From:

Edmonton,Alberta,Canada

Re: Super Smiley