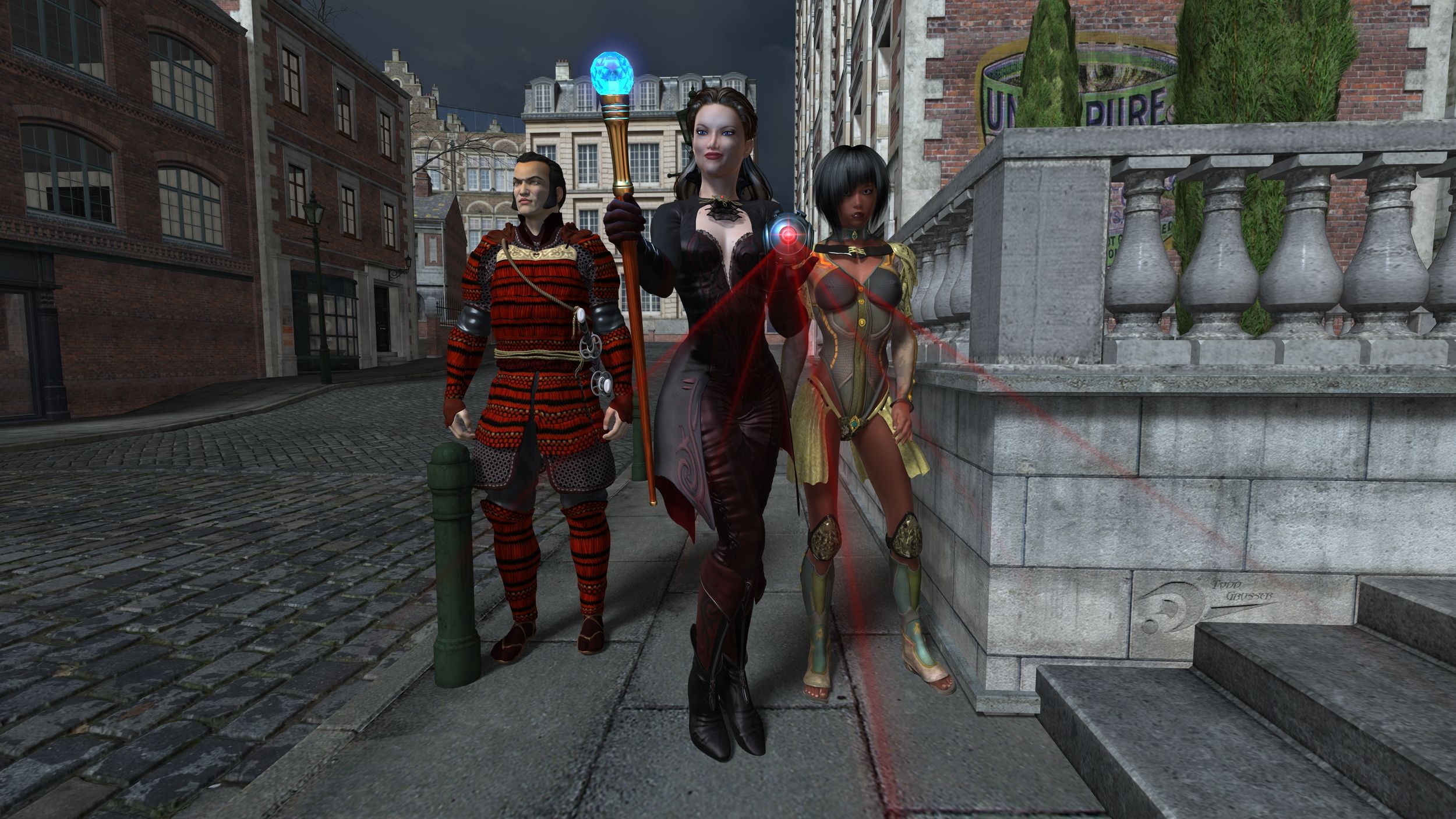 Time Lord-The professor


Obsidian


2018/1/11 7:34


768

2


Playing around with a Time Lord generator and came up with this lady...I researched the rest cuz ---I don't fucking know why. But there's some shit in here you NEVER knew about a TARDIS...believe me it was all news to me.

The Professor
Original Gallifreyan name is Paruan and back on Gallifrey before the time war, she led a simple life as a Professor of Cosmic Science at the Prydon Academy– after graduating. The time wars changed that and she was needed in battle until she was trapped in a time loop unable to escape until a tear in time somehow wrenched free. Now she, like the Doctor, travels Time and Space in search of adventure!

Upon her release from the time loop she and Nesrin found themselves in 16th century Japan where The Professor saved the life of a Samurai warrior named Yuriitto Toranaga, who then swore a life debt to her, and has served as her companion and bodyguard for some time.
She has traveled extensively through time and encountered what she believed was a defunct Library drone whose sole purpose is gathering and storing information…it also turns out that it has quite an usual sense of humor.

The Professor is in her second regeneration cycle and is quite young for a Time Lord. Unlike the Doctor she is not quite as eccentric, although she is a bit quirky, and while she has hinted that her last mission during the time wars was something dark and sinister she will not say what that dreaded mission was. The professor is well aware that the time war is over, and that she cannot return to Gallifrey as the entire planet has somehow gone missing. She has traveled to many of the former bases the Time lords used during the war only to find them empty and long abandoned. She knows nothing of the Doctor's whereabouts or that he may have had anything to do with Gallifrey's disappearance although she has gained knowledge of his exploits in her travels.

The Professor uses a female Type 105 TARDIS (Time Dreadnought) named "Nesdrin" which is in peak working condition. Like all TARDISes she is alive, and sentient with a soul. It is extremely dangerous to look into the soul of a TARDIS. This type of TARDIS has an external appearance in the form of a moving, talking, living being, usually humanoid in form and indistinguishable from the real thing. In order for operators and passengers to be able to enter or exit this type of TARDIS, a door opens up along a crack which appears vertically in the middle of its body, widening with each half of its body appearing on either side. Combined with its chameleon circuit, the TARDIS can change its appearance and gain or lose traits such as Attractive, Distinctive, Unremarkable, Unattractive, and even Alien features at will. It may also take on a TARDIS's more traditional inanimate disguises if it or its operator so wishes. Because the 105 possesses a humanoid form and is capable of communicating directly with 3-dimensional beings (such as Gallifreyans or Humans) as well as 5-dimensional beings (such as other models of TARDIS). Part of their minds is organic and functions as a 4-dimensional anchor into Normal-Space. The professor and her TARDIS are bonded genetically but they are also close friends. It is worth noting that the Professor may call the shots but the Nesdrin does not require her to navigate space and time or to initiate time jumps. Simply put Nesdrin travels with the Professor is quite because she is quite fond of her as both a friend and mentor.

The first TARDIS of this series (the 102) was created when a "Faction Paradox" designed receiver owned by a human, was connected to a type 40 TARDIS owned by the Time Lord known as "The Doctor". This new type of TARDIS, designated "Compassion", was unique and incapable of being replicated.
The type 103 TARDIS was created shortly afterward using the type 102 as the mother. These TARDISes were specifically bred to be more aggressive and became the standard TARDIS for any Time Lord in the time war.
The type 104 was created in an attempt to fine tune the type 103. They are equipped with a smaller version of the power source known as "The eye of Harmony" and as such are able to function without a connection to the main eye located on Gallifrey. This generation was created to fight the Daleks in the time war and is equipped with weapons capable of erasing an entire star system from history.
The Type 105, like the 104-Form, possesses powerful recessive genes from the original 102-Form that had been "re-activated" to make them more powerful than their predecessors. Also, like the 104, the 105s were designed to be both male and female. Certainly they were significantly more advanced than the 103.

Each Time Dreadnought was equipped with hundreds of copies of Gallifrey's Prime Eye of Harmony, allowing them to carry and discharge hundreds of times as much power. The first Time Dreadnought was designed to directly combat the Daleks Time Saucers and DARDIS capsules and is well equipped to do so.
Conceived within the space-time vortex and raised on bases and colony worlds of the Time Lords.

Mark IX console installed.
Holographic scanner.
Temporal Surveillance System: This allows a TARDIS to continually collect and store all data observed by its sensors. This data was then to be uploaded to the Matrix. Using the Matrix's processing abilities this data could be used to render visual and audio images for events occurring anywhere within its collection field (at least several miles) even if the event in question was deep underground. Despite not becoming available till after the Mark IX Refit, this function was retroactively installed in all capsules running earlier refits by Gallifreyan technicians at the first available opportunity.
Automatic Architectural Reconfiguration Program: Allows the Professor, and Nesdrin to alter the internal living space.
Enhanced self-repair mode:
Cell Regeneration Vault: For the pilot and passengers located in its medical-bay
Telepathic Circuits: Allows the Time Lord to have a stable reality quotient when altering history.
Possess all the interpretive, adaptive and responsive intelligence of normal TARDIS, but with enhanced aggression.yeah that's what we tried to
Are capable of thinking and communicating like a living growing biological creature.
Nesdrin Can predict every thought in a lesser species mind with an accuracy of 97%.
Powered by hundreds of block-transfer copies of the Eye of Harmony.
Nesdrin can exert complete physical control over any lesser species that enters them.
Capable of blending into a time zone by reshaping exo-shell to match the local inhabitants. Default appearance is a human approx. 1.64 meters tall.
Capable of accessing all space-time points within the Time Lords' Noosphere of understanding.
Equipped with a Chaotic Limiter which adjust the crew's effect on History by changing their reality quotient. The Limiter is set for lower settings for scouting missions and higher settings for assaults. It is possible when using the Chaotic Limiter, that a TARDIS could effectively render its crew invisible.
Can Key objects to it's Dematerialization Matrix, allowing them to dematerialize and re-materialize them in any location/time at will, regardless of the distance or intervening obstacles.
Tribophysical Waveform Macro Kinetic Extrapolator-based Force-Field (say that three time fast). When connected to the massive dimensional energy of the Heart of the TARDIS, the Extrapolator generates a powerful force-field that can deflect energy, and many of the temporal weapons used by the Daleks in the Time War. It can also enhance the transducer power cells allowing the TARDIS to lock onto a target and drain its energy. This enhancement can also be used to speed up the refueling of a TARDIS's Heart should power from it's hundred of Eye of Harmony power cells be unavailable.
Tuckson-"Jacker" beam weapon: When set to broad spectrum, the Tuckson-Jacker Energy can tractor a TARDIS out of the Vortex and into real space. When set to pulse-mode, the Tuckson-Jacker Energy bursts are capable of penetrating even a TARDIS's Force Field. A successful hit renders both the TARDIS and the Time Lord operator incapacitated. Any Lesser humanoid species aboard will instead be killed outright.
Artron Cannon: A powerful beam weapon powered by Artron energy.
Equipped with a Vortex Lance which is also standard on all War TARDISes. At short range, the cannon is capable of killing an Eternal. A more general configuration of this weapon includes the ability to release an Omni-directional psychic blast of Artron Energy by opening a direct wormhole to the Prime Eye of Harmony on Gallifrey. Designed to destroy any Timeships within the blast radius, the blast will also kill any Chronovores in the area. Blast radius 1,000 km
Time Warp Silos: Can fire any of the following:

Earthshock Bombs: Each bomb consists of fission/fusion devices that create a tiny hole in the Space-Time Continuum. This creates massive amounts of radiation and intertemporal shock waves. These weapons were occasionally mounted on Type 40 TARDISes around the time of the Doctor's birth and were capable of reducing large asteroids to rubble.

Time Torpedoes: They take a little over 30 seconds for them to reach their target. When they detonate, their target is frozen in a microsecond of space-time for several centuries. These weapons are capable of breaching even a TARDIS's defenses

Klypstromic Warheads: When detonated, the warhead irradiates the local area of the Space-Time Vortex blocking any TARDIS's entry into the Vortex for a span of 5 million years. This makes space-time travel difficult, if not impossible.

Doomsday Probes: Release a 5 second Entropy wave that will destroy all life in an entire sector of space.
The comments are owned by the poster. We aren't responsible for their content.
Poster
Thread
Lady Heromorph

Posted:

2018/1/15 11:41

Updated:

2018/1/15 11:41

Official Award

Re: Time Lord-The professor

Congratulations! You've made top images for the Second Week of January, 2018

Dragondack

Posted:

2018/1/14 1:10

Updated:

2018/1/14 1:10

The Great Eternal Dragon

From:

Edmonton,Alberta,Canada

Re: Time Lord-The professor